The Lady of Shalott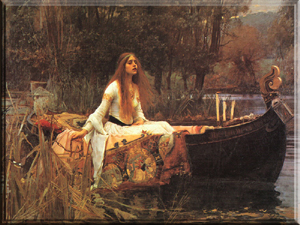 The original painting
by John William Waterhouse
The painting illustrates the poem of the same title by Alfred, Lord Tennyson, and depicts Elaine, the Fair Maid of Astolat of Arthurian legend, who fell in love with Sir Lancelot.
Extract:
In the stormy east-wind straining,
The pale yellow woods were waning,
The broad stream in his banks complaining.
Heavily the low sky raining
Over tower'd Camelot;
Down she came and found a boat
Beneath a willow left afloat,
And around about the prow she wrote
The Lady of Shalott.
The whole poem can be read here