Jack, Sam and Teal'c went down to the parking lot together.
"My truck has a G.P.S. tracker," Jack was saying. "We'll need a trace on it. He was heading north so far as I could tell, but that's probably a blind." He gave Sam the code number.
"I'll need someone with me to drive my car while I navigate," Sam said.
"Take Captain Collins," Castleman said, heading for the Viper. "He's a steady, reliable driver," he added with a mischievous smile.
"Thank you, Major. Such consideration!" Sam said with mock gratitude. She went to her car and took her laptop from the trunk.
"How come he didn't take your vehicle, Carter?" Jack asked, a little aggrieved.
"Maybe the Colonel O'Neill in his universe has the same kind of truck and he went for what was familiar?"
"Could be."
"And you reversed in so he could drive straight out," Sam added.
"Come on, Colonel." Major Castleman beckoned him as Phillips reversed the humvee out of the way. Jack jogged over to him feeling Sam's envious eyes boring holes in his back.
"Not exactly inconspicuous, Major," Jack observed, taking in the two broad white stripes running parallel atop the length of the vehicle. Jack slid in a little cautiously. Castleman revved the engine whose throaty roar probably did strange things to Sam's hormones.
It didn't take long before Sam's voice came over the comm. unit. "He is heading north. He's on the I25."
Major Castleman burned rubber as he set off in very hot pursuit. Once out of city limits, he opened the Viper up to the max. Jack figured that at that speed, they'd reach Denver in half an hour.
"Oh shit," Castleman murmured ten minutes out of the Springs.
"What?"
"Company."
Jack looked round and saw flashing lights in the distance. "Well, they're not going to catch you in this."
"No. They'll just set up a spike strip down the road aways. We'll have to stop." Castleman signaled he was pulling in, and hit the brakes.
It seemed to take quite a while before the cops pulled up behind them, and the traffic cop took his time moseying over to the Viper. Jack figured this was done with malicious intent.
"Ok, what's the hurry, mister?"
"Major Castleman and Colonel O'Neill on a matter of National Security," the Major said flashing his I.D. and passing over Jack's as well.
"National Security huh?" said the cop skeptically, observing the anonymous black attire.
"That's right, officer," Jack snapped, "and if you don't want to be pounding the beat in Nome, you'd better wrap this up damn' quickly."
The officer shone his flashlight on the two I.D.s, and took his time scrutinizing them. Finally, reluctantly, he said, "Ok, you're free to go."
"Thank you, officer," Castleman responded, "and as we're in pursuit of a possible terrorist, it would be appreciated by your government if you would radio on ahead and make sure we're not held up like this again."
The officer's eyes opened wide at this. "Yes, sir! Will do." But he was talking to the space where the Viper had been. It was now nearly a quarter of a mile up the road and disappearing fast.
Jack contacted Sam to explained the hold-up.
"Maybe it's just as well, sir. Your truck just turned off the I25 on to Meadow Parkway heading west, then took a right on to highway 85."
"What's his game, Carter? Trying to evade pursuit by taking a different route into Denver, you reckon?"
"Could be, sir, or maybe he's just trying to put as much distance as possible between himself and anyone following, then lose himself in the backwoods. Yep, that looks likely. He's just taken a right off the highway about five miles from where he joined it - it's just before the turn into Sedalia. It's a logging trail, I think. Teal'c thinks the other Daniel might be familiar with the area and know somewhere to hide out," she said.
"I'll bear that in mind. Thanks."
By the time the Viper reached the logging trail, they were only a couple of minutes behind and closing fast. Castleman had necessarily slowed down - didn't want to end up in that dark ravine that dropped away to the left of the dirt road. Jack was pleased to hear that his truck was likewise traveling at a more sedate pace. Presumably the driver had figured he'd be off the radar by now if anyone had managed to follow him.
"There!" Castleman exclaimed, seeing distant red tail lights through the trees ahead. "We'll soon have him."
"Yeah. Go careful though. He's armed and probably dangerous."
Sam's voice came in again. "The trail you're on is called Cherokee Ranch Road. It eventually joins up with North Daniel's Park Road in Castle Pines. I've ordered one of the humvees to set up a road block there in case he manages to... you know..."
"Not gonna happen, Carter, but it's a good move anyway. Thanks."
He returned his attention to the road. "Hey, where'd he go?" he exclaimed, seeing an absence of tail lights.
"Just disappeared round a hairpin. We'll pick him up again in a moment or two," Castleman said with confidence, slowing right down as he approached the bend. But when the dirt road straightened out again, there were still no red lights to be seen ahead.
"Stupid idiot must be driving without lights," Castleman said, sounding surprised. There was an explosion a little way behind them, partially muffled by trees and the Viper's engine.
"Whoa!" he exclaimed and slowed to a stop.
"What?"
"Look behind you," Castleman said dourly, reversing to where the truck had left the road.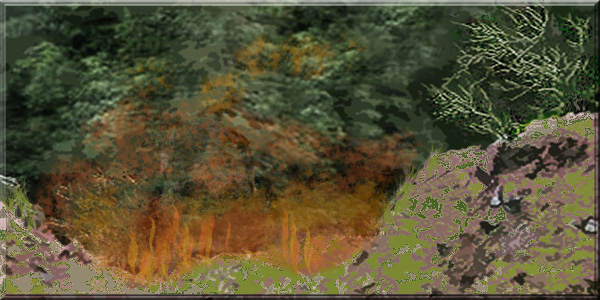 "Sonofabitch!" Jack exclaimed seeing the orange glow emanating from the bottom of the ravine. "Bastard's totaled my truck!"
"Colonel!" Castleman sounded shocked. "There's a man dead down there."
"I very much doubt it," Jack snarled. "He may not be our Daniel, but he's a Daniel, and until I see a body, I'm assuming he's still alive..."