Ever wonder what Jack and Daniel would get up to
if they were marooned, alone and incommunicado,
on an unknown planet with no stargate? Wonder no more!
This is an ex-zine story with adult content.

*drum roll*
This, I believe, is now officially the story to have taken me the longest to finish. Why,
you may ask. Good question. No idea. Don't really even care anymore 'cause it's done.
---
Summary: Er...J/D, aliens, sex, threat of death... You should know by now whether you can trust me or not, so just read it, okay? This tends toward dark rather than fluff, possibly kink, but I don't think it's necessarily darker than other fics I've written.
And if you choose not to take a chance, that's okay too. ............................Rating: NC-17.

| | | | |
| --- | --- | --- | --- |
| Category: episode tag | Pairing: J/D | Rating: NC-17 | Spoilers: Fragile Balance |
Summary: The clone isn't content to live with nothing more than the scraps of Jack's life.

2005 S.F.A. nominee - Best Humor - Relationship: Jack/Daniel

| | | |
| --- | --- | --- |
| Category: Humor, first time | Pairing: Jack/Daniel | Rating: R (langauge) |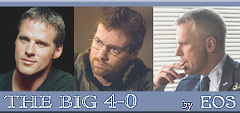 Author's notes:
This is just a little something I wrote for the FDAS Daniel birthday challenge. I call it an un-fic because, well, it's not really a fic. But it is an interesting idea. And smutty in word, if not deed ;-)
Definitely a birthday treat - Ed.



Author's notes:
This is not really a fic so much as a few scenes I couldn't let alone. It's just stupid!Jack and the man who loves him. And the alien who loves him but frankly, I just couldn't go the threeway route. Sorry— I just don't think Thor's mouth is big enough.
| | | |
| --- | --- | --- |
| Category: Humor | Pairing: Jack/Daniel | Rating: R |

Eos' wickedly wacky sense of humor strikes again...

Some debriefings are more interesting than others. (R)

Just another debriefing we'll never see.
Featuring Virgin Daniel and Slut Jack. (PG-13)

It's hell being a woman in this man's SGC (R)

It's Teal'c's turn on the hot seat. (PG-13)

The SGC is called on to account for their actions.
Sergeant Davis has a better idea. (PG-13)