---
---
A complete fantasy novel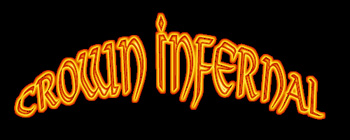 a merry blend of angst, humour, diablerie and death

"I am seeking a bold fighting man," said he, "for a difficult and - um - dangerous venture. I shall not conceal from you that the - um - risks will be enormous, but the - um - cause is a just one."
The bold fighting man experienced a painful sense of déjà vu. He wondered if there was something, invisible to himself, written indelibly across his forehead for everyone else to see, saying, "Sucker for a good cause - high risks welcomed - grateful thanks are adequate reward."
Original fantasy story with a couple of sketch maps plus a few illustrations.

~ WARNING: adult content ~
The title image is the link.
---
---
---
---
| | |
| --- | --- |
| | A mega-whinge about the all-pervasiveness of Xmas in a not particularly Xtian country. |
---
---
An account of a four-day trip to Geneva
to see - and hear - 'The King of the High Cs.'
But this is not about the concert.

This is about the journey in which
eveything that could go wrong, did go wrong.

NON-FICTION + HUMOUR
---
---



Does writing for love and posting
your stories for free on your website
make you a lesser writer than someone
who writes for publication? For filthy lucre?

---
---
Summary:
Rashid finds that all is
not as he was led to believe
- not by a cosmic mile.
---
---



A mildly humorous sci-fi short story.

Russell Catherwood, a young physicist,
accidentally experiences 'Allokosmoi'
or Alternative Universes.

The image, left, links to the story.
Flash fiction is a literary genre which
consists of 100 words, no more, no less.

This is a little play on words - and it's all true...
---
---
A general short story which tells
of the unusual friendship between
Moira, a Scots girl, and Effie, a Romany.

The image, left, links to the story.
---
---
This is a collection of Works In Progress.
It was begun on 25 MAR 2006 and the first entry is:

WARNING:
Unsuitable for Christians who have no sense of humor.

---

More info on Tartarus Main Page —>




The pic. above links to
Tartarus Main Page